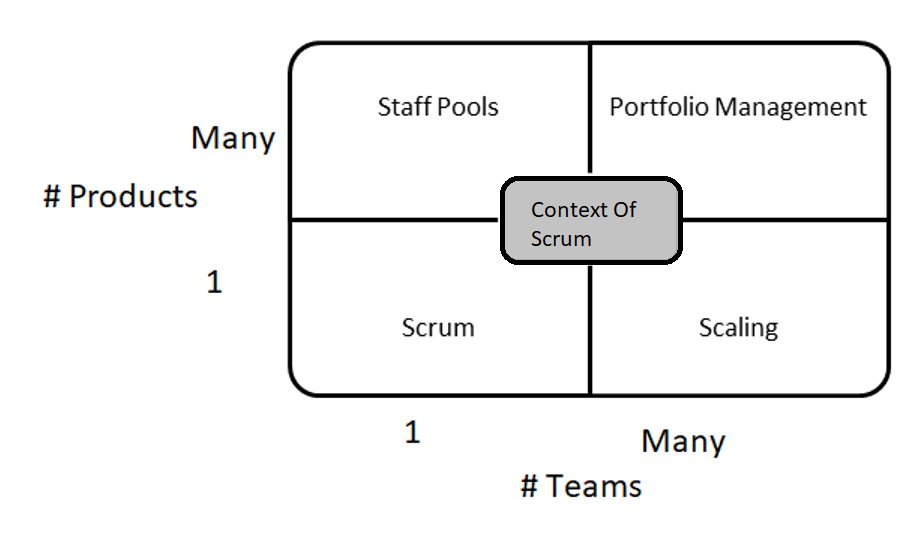 The Matrix above shows the context of Product vs Teams.
When we define a Product – here we define a Independent Value Stream which makes sense from a market perspective.
When we talk about teams, here we are talking about Development Team of Scrum which is 3-9 team members. This team excludes the Product Owner and Scrum Master.
Scrum Only defines "One Team – One Product" Context. Scrum does not define the other contexts.
Scaling means there are multiple teams working on a Product (Value Stream). Scaling is out of scope of Scrum.
"Many Products – Many Team" context is defined by portfolio management, which is out of scope of Scrum.
"One Team – Many Product" quadrant is for Staff Pools who do heterogenous type of work. Generally involved with ticketing systems in organizations. Kanban may work in this quadrant and the focus is here on resolving bottlenecks and getting heterogeneous work done without bottlenecks.
SCRUM ONLY DEFINES ONE TEAM, ONE PRODUCT CONTEXT. SCRUM LEAVES IT TO SCALING FRAMEWORKS TO DEFINE SCALING AND PORTFOLIO MANAGEMENT FRAMEWORKS TO DEFINE PORTFOLIOS.